Last week, I received an amazing honor. During its annual Freedom Fund dinner, The Greater Pittsburgh Chapter of the NAACP, awarded me the Corporate Partner of the Year award.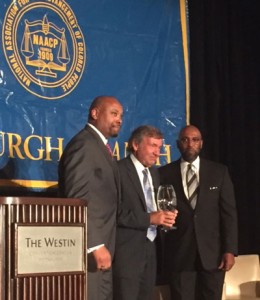 Receiving this award from the nation's oldest and best civil rights organization means so much to me.
While preparing my remarks for the dinner, I came across a quote from Lewis Cass, a politician and statesman who lived in the 1800s. He said, "People may doubt what you say, but they will believe what you do."
One of the reasons why I was so honored about the NAACP award is because the NAACP knows me and our organization, Covelli Enterprises.
The NAACP selected us for the Corporate Partner of the Year award because of the work that we have done creating a diverse and inclusive workforce at our 275 restaurants in Pennsylvania, Ohio, West Virginia and Florida.
I am deeply touched by a comment that Constance Parker, president of the Pittsburgh NAACP made about us: "We applaud Covelli Enterprises for creating such a diverse and inclusive workforce and believe that other companies can learn by following Covelli's example," Parker said.
I am also grateful for how the NAACP has worked with us, partnered with us and believed in us so that we have been able to create one of the most diverse and inclusive workforces that can be found in any restaurant in America.
Read the official press release here.
http://www.covelli.com/wp-content/uploads/2016/01/Covelli-Enterprises_small_white.png
0
0
Sam Covelli
http://www.covelli.com/wp-content/uploads/2016/01/Covelli-Enterprises_small_white.png
Sam Covelli
2016-05-09 22:20:35
2016-05-09 22:49:44
Thank you, NAACP, for Believing in What We Do and For Recognizing Covelli Enterprise's Diverse and Inclusive Workforce