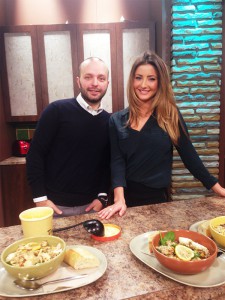 As a regional marketing coordinator for Covelli Enterprises, Catherine DeVries frequently represents the company on various television shows.
Catherine DeVries knows a thing or two about teamwork.
Covelli Enterprises' regional marketing manager in the Greater Toronto market holds a bronze medal in synchronized skating she earned as a member of the 2008 Canadian team at the ISU World Synchronized Skating Championships.
Catherine's skating career took her around the world, competing in Milan, Budapest and Prague, among other places, and the experience taught her the value of collaboration.
"I've definitely come to love working on teams and working with groups to achieve a common goal," says DeVries, who has been with Covelli Enterprises and Panera Bread for a little more than a year.
The former competitive athlete and current certified Zumba instructor finds that Covelli Enterprises is a great fit for her because Panera's philosophy matches her own. " I am someone who is concerned with staying active, eating healthy, and taking care of my body," she says, and Panera's commitment to high-quality ingredients, wellness and transparency, means she can take pride in the company and the product.
"My favorite part of the job is representing a brand that I truly believe in, and align with, in terms of personal values."
Those values also include service to the community, and Catherine is glad for the many opportunities she and her co-workers have to help support local people and local causes. The Panera team in the Greater Toronto market sponsors youth hockey and soccer teams, and has been a major charitable partner for Trillium Health Partners in Mississauga. The stores sponsored the "Top Up for Trillium" campaign last year, which raised funds for the hospital's emergency medicine resources, and this year, the stores donated a postcard for a free $10 gift card to all nurses at Trillium as a thank-you for their hard work and service to the community.
Catherine likes that her career connects her with new people, new community groups, and new causes on a daily basis, and although she admits that her competitive drive, and her passion for the job, sometimes make her a "workaholic" she also understands the value of work-life balance.
She likes to exercise as a means of "staying sane" and enjoys taking hikes and adventures in different areas of Ontario. She enjoys fashion as much as fitness, and she's currently taking illustration and sewing classes, in hopes of making her own clothing some day. While she works many weekends on brand building, events, and sampling, she appreciates that her supervisor insists she compensate with a deserved day-off to maintain proper balance. "She's extremely considerate of my well-being, and of work-life balance, and this is another reason why I love my job."
The energetic and driven Catherine says she'd recommend Covelli Enterprises/Panera to anyone looking for a rewarding career with a quality company, and she's glad to be part of a winning, and a caring, team.
"The constant giving back and charitable activities make you extremely proud of the company you work for and the job you do," she says, adding that it's "easy to love the brand and the products you are marketing," so much so that for Catherine DeVries, " it is extremely difficult NOT to love your job!"