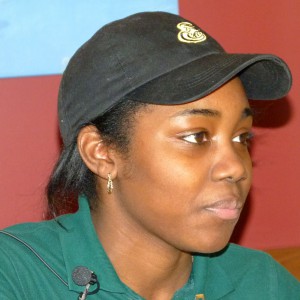 Mirriah Wells is the first person many customers often see when they walk into the University Circle Panera Bread in Cleveland. She likes it that way.
Trained for many positions, Mirriah likes the cashier's spot because she gets to be the ambassador for Panera Bread.
She says she gets to spot some of the regular customers coming in and "I will have their order up the screen before they tell me."
One customer, she said, comes in and orders a large coffee every single day. "I tell him, 'I already know what you want.'"
"This is a great place to work," said Mirriah, who started at Panera in October 2014. "Employees have fun with the job and help each other."
Mirriah, the daughter of Monica Wells and Charles Brisker, is a junior in high school with plans to study nursing at the University of Akron, Kent State University or Ohio State University. "I want to be close to home," she said.
Her position at Panera is what she described as her first "real" job.
She said she has learned a good amount in her time at Panera. She said there have been some times when people have been rude and she has learned that "it's important to maintain self-control," she said.
"I have also learned about how I can't always take my time with things. I have to keep up the pace," she said.
"Employees have fun with the job and help each other." – Mirriah Wells