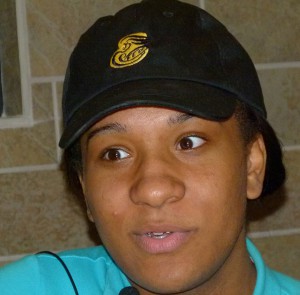 Rayven Scriggs has learned a huge life lesson in her short time as an associate at the University Circle Panera Bread in Cleveland.
"I've learned that if you are nice to people, they will be nice to you," said the high school senior. "I never knew that before."
She said she was shocked when she first started working at the Panera Bread restaurant and total strangers would ask her how she was. "They didn't know me and they wanted to know how I was," she said. "That was all new for me."
Rayven, who plans to study early childhood education and nursing in college, said this lesson will carry her for a lifetime.
Rayven, who is the daughter of Vivian and Lorenzo Crump, lives in Richmond Heights and could work at a Panera Bread closer to her home. But she said she really likes the University Circle restaurant.
Rayven said she has changed her entire outlook on people from one that used to be fairly negative.

"I now realize that not all people are bad. I didn't understand that before," she said.

"There are actually people that care about you and they don't have to."
In addition to the customers, Rayven said her co-workers and managers are also kind and care about her well-being.
Rayven, whose current position is on the line, said she hopes to stay with the company when she is in college and even be promoted.
She said the environment is very comforting and positive for her. Plus, she loves the food!
Her favorite is the Chipotle Chicken Panini.
"It is just so different than what I had experienced in my old job," she said.
"I didn't really experience a lot of people smiling – especially at strangers." – Rayven Scriggs