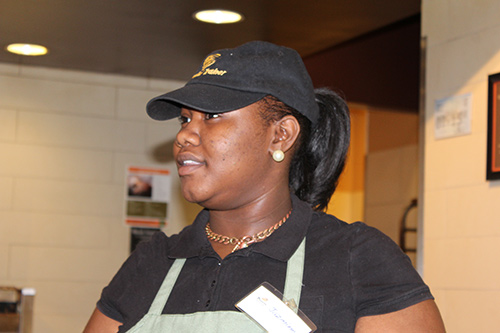 Jazmine Lindsay is studying business at Clarion University of Pennsylvania, but the sophomore said she's acquiring great knowledge at Panera Bread where she's been working since September 2012.
Jazmine, 18, completed her freshman year in May 2015 and hours after the semester ended, she was back at the Baker's Square Panera Bread, just outside of Pittsburgh doing what she says she loves.
"Working here is incredible because I connect with customers and I have learned so much about business. This is why I am studying business in college," she said.
On the weekends when she came home from college, she went back to work at Baker's Square. "They're very flexible with me," she said.
Jazmine works all positions at Panera, but she has a favorite aspect of the job.
"It's working with the customers," she said. "Sometimes you may be the only human contact that someone has. So you have to make sure that it's good. You could make someone's day."
She hopes to one day launch her own business where she will apply many of the lessons she's learned from working at a Panera bread, including how to treat people.
"I know that this is so important," she said. "People need to feel good about being here."