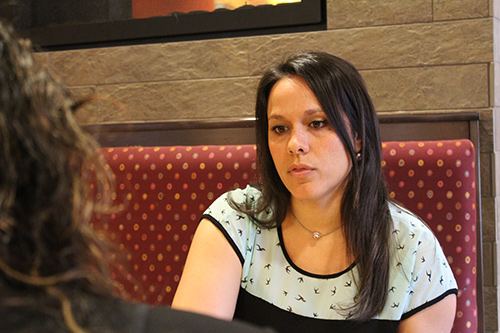 Regional marketing director practices entrepreneurial lessons.
Bernadette Santucci works full-time and owns two businesses.
Bernadette Santucci works full-time as a regional marketing director for Covelli Enterprises in Pittsburgh. But that's not her only job.
She launched a dance studio where 120 dancers are now learning everything from gymnastics to ballet. And she also opened a high-end clothing store.
She has put her entire family to work helping her.
"My family hates me," she said laughing.
But it was from that family where Santucci learned that work ethic.
Her father, Mike Giovanelli, has been a coal miner his entire life and is now a foreman. Her mother, Sheryl, works as a teacher at a Catholic school and then scurries over to the dance studio, named, "Dance With Me By Sisters 3."
Bernadette started dancing when she was 3 and it was her grandmother, Violet Giovanelli, who urged Sheryl and Mike Giovanelli to enroll Bernadette and her two sisters, Jill and Natalie, in dance.
All three girls danced for years.
When Bernadette graduated from Edinboro University with a degree in Communications in 2005, her father commented that it was a shame that all of the years of dance training was wasted.
Bernadette said this was when she had the idea of opening the studio near her hometown in Washington, Pa. She opened the dance studio in 2006
"He's proud of the studio," Bernadette said, explaining that she teaches about seven classes per week , with her sisters teaching some and with others helping with additional courses.
"I don't function unless I am busy. I have to have almost every minute of every day filled with something to do, or I would be useless. I keep myself going and on track by always having something to fill my time."
She said the girls who take dance lessons and then compete professionally acquire skills that help them throughout their lives. "It gives them self-esteem and confidence and you put yourself out there to be judged and that takes a lot of confidence," she said.
Bernadette is clearly proof of the power of dancing for building confidence. "When I was younger, I wanted to be president of everything. I always saw myself in leadership roles. I think dance helped with that," she said.
With the dance studio established, Bernadette began looking for a new challenge and saw an opportunity for a children's store. In October 2013, she opened Principessa Children's Clothing in Washington, Pa.
The store carries high-end children's clothing and is open from 10 a.m. to 5 p.m. – the same hours that Bernadette works at Panera Bread. "I can never help," she said, laughing. Repeating what she had said several times, Bernadette said, "My family hates me."
Her sisters run the store. She said she helps at the store on weekends.
Bernadette's husband, Mark, whom she married in 2008, travels a lot for his position as a sales representative.
"So, he's not home a lot. So I work. I work all day and dance all night," she said.
She said she tries to operate her businesses using many of the same principles that Sam Covelli uses for his Panera Bread restaurants.
"Mr. Covelli believes in treating people right. Mr. Covelli also believes in his people and in his businesses. It is so important to value your employees. I've learned that from him and I try to practice it," she said.